SSI's education efforts are conducted through the National Center for Interactive Learning (ncil.spacescience.org), as well as through the education and outreach efforts conducted by SSI researchers. NCIL is organized around four interconnected groups: 1) Exhibition Development, 2) Digital Learning, 3) Professional Development, and 4) Public Engagement. Dr. Paul Dusenbery is the Director of SSI's Education Branch and NCIL.
National Center for Interactive Learning
Providing effective STEM learning opportunities for all Americans is essential to creating an educated citizenry who understand the complex issues confronting our nation and the world. STEM professions and the pipelines that produce those professionals lack ethnic diversity, even as the nation is undergoing a significant demographic shift. NCIL programs strategically engage diverse audiences in STEM education experiences. We foster collaboration between scientists and educators to bring the wonder of discovery directly to people wherever they are. We bridge the worlds of public schools, public libraries, museums, and the Internet. Our programs span a range of audience needs and delivery methods, including traveling museum and library exhibitions; award-winning educational films, videos, and websites; hands-on teaching resources and activities; and educator professional development (both online and in person).
For over a decade, NCIL works at the forefront of digital media, ranging from interactive experiences for museums and libraries to online games and now smartphone and tablet apps. The potential of digital media only increases as portable, connected devices become more commonplace, allowing us to reach people in a variety of different environments and contexts. This means an increased opportunity to impact formal education and to reach people in all walks of life, raising the general science literacy of the public.
Our education work is guided by a robust research and evaluation program that is developing best practices for interactive learning and enabling us to disseminate the most successful programs nationally.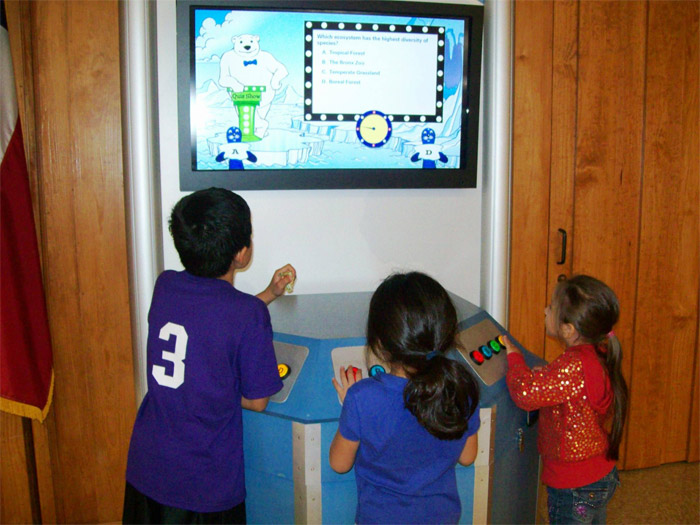 credit: TLL Temple Memorial Library
PARTNERING WITH NCIL
SSI's National Center for Interactive Learning has developed a number of education and public outreach (E/PO) products and services that could benefit your E/PO program. NCIL is a full-service E/PO provider. It is a national leader in developing small and large exhibitions for science centers, museums, and public libraries. NCIL also develops standards-based activities, conducts STEM workshops for informal STEM educators, and partners with a variety of organizations to produce STEM programs that inspire and educate the next generation of innovators. For more information about NCIL visit ncil.spacescience.org.
If you're interested in partnering on an education project, please contact the education team.
History
SSI has been deeply involved in science education since its formation in 1992, producing pioneering projects ranging from exhibits, to digital learning experiences, to workshops designed to engage scientists in education reform. In May 2010, SSI expanded its educational efforts through the launch of NCIL.
Looking for science games or education resources? We've got you covered.

More

SSI can bring exciting science programs to your classroom.

More

Events associated with the STAR_Net Libraries project.

More